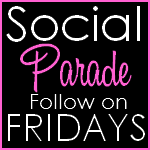 I love meeting fellow bloggers and finding new blogs to follow.
Smart and Trendy Moms
is hosting a Social Parade so I do just that. Why don't you join in and link up your blog, too?
If you're new here, poke around a bit and check out some recent posts.
This one
is a timely one about water safety. Not a pleasant thing to think about, but so very important!
And you can find some great summer recipes like
Strawberry Angel Food Cake
and
Grilled Veggies
. I've got tons of other great recipes, too. If you're looking for some fun activities for your kids, take a look at my posts on summertime boredom busters
here
and
here
.
Leave me a comment so I know you stopped by and have a wonderful, safe Fourth of July weekend!