I was visiting my friend
Cop Mama
and she was participating in this cool meme called Five Question Friday. W
hat a fun way to share things about yourself and get to know other bloggers, too! Click on the button below to get all the details and to join in!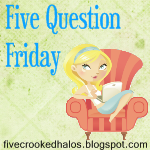 1.
Who would you want to play you in a movie of your life?

Amy Adams

2.

Did you ever go to summer camp?

Yes! I always went to church camp and always had a good time.

3.

What sends you running and screaming in the other direction?

Spiders. They seek me out.

4.

What is something you do that drives your spouse nuts

? I can't begin to imagine! Ha! No, I often try to apply the passenger's side brake when he's driving the car. What? There's no brake over there, you say?